RECREATION
"GATEWAY OF THE NORTHERN LOESS HILLS"
"THE FARTHEST WEST IS BEST"?>
---
---
?>Westfield City Park--The Westfield City Park has a large shelter house equipped with electricity and picnic tables, a public restroom facility is available, grill, sand volleyball court, horseshoe pit, and playground equipment. The park also has a spiral slide that has been refurbished which was formerly located in River Sioux. The slide dates back to the early 1900's. The shelter house can be reserved for your gathering by calling the City Clerk at 712-568-2631.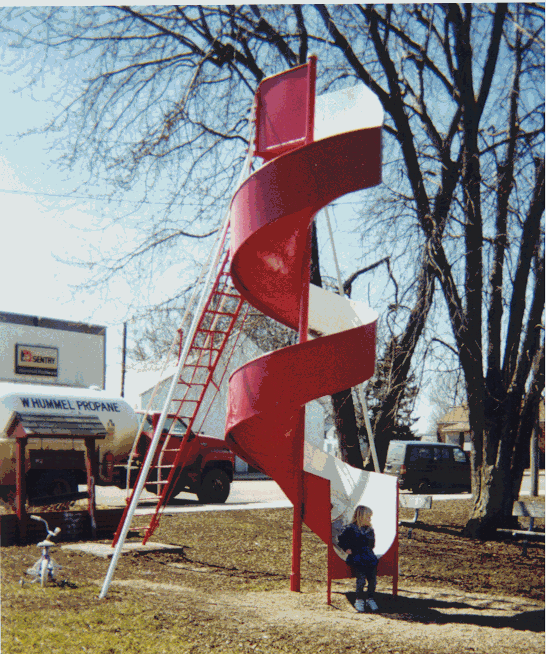 Little League Baseball--Westfield has two ball parks used each summer by many children.
Mill Site Access Park--a State Conservation Area, is located 1.5 miles west of Westfield along the Big Sioux River.
Broken Kettle Grasslands--is a nature preserve of 2100 plus acres located about 4 miles south of Westfield. It is owned and managed by The Nature Conservancy. It is located in the northern terminus of the Loess hills and is composed of dry loess ridge prairie. The extensive native prairie found on the site provides habitat for a variety of plants, animals, and invertebrates including rare butterfly species such as the regal fritillary and the ottoe skipper. A small interpretive kiosk is located on site and will have information on the preserve, maps, species identification, and natural history. There are no developed hiking trails, but visitors are encouraged to enjoy the preserve in a non-consumptive fashion. "Take only pictures, leave nothing but footprints.:"
Loess Hills--Westfield is the "Gateway of the Northern Loess Hills". The Ridge Road Loop of the Loess Hills Scenic Byway begins at Westfield. Tour maps are available at Iowa Welcome Centers or by sending a self-addressed and stamped, legal sized envelope to: Harrison County Museum/Welcome Center, RR #3, Box 130A, Missouri Valley, IA 51555
Dorothy Pecaut Nature Center (formerly known as the Loess Ridge Nature Center)--located 16 miles South of Westfield. The Nature Center is located in Stone State Park and is operated by the Woodbury County Conservation Board.
---
Utilities Businesses Church Officials Recreation A-W School History
Reunion 150th Library Loess Hills Interpretive Center 2010 Reunion For Sale

BACK TO ?>?>WESTFIELD'S HOMEPAGE